Syncfony for Mobile Operators

Serve your customers quickly with value-added personal cloud services to increase ARPU
Leading investors say that voice, text, and data have become a commodity and mobile customers can easily migrate to another operator. There is a demand for a stronger relationship between customer and operator. Value-added services can increase average revenue per user (ARPU). Certain features have come to be expected like synchronizing contacts, photos and videos from a mobile phone, documents from a computer and advanced privacy and security is highly focused
There is no doubt that smartphones have gained huge prominence and importance in today's world. Customers tend to keep their digital lives on their devices and do not want to lose their valuable data. They take those devices wherever they go and rely on the possibility they can always access their content no matter whether it is their contacts book, SMS, photos & videos, or other files.
That is why personal cloud storage solutions can attract more and more users to upload their own content, synchronize various devices, and keep their digital lives safely secured. This is a life-critical issue for most users and a challenge for mobile operators as there is a growing demand for digital storage. Meeting the needs of customers will lead to their satisfaction. There are four main scenarios:
a) customers want to change or upgrade their device and have to deal with the problem of how to transfer their content simply and successfully to that new device and/or
b) their local storage runs out of capacity and they need to free up space and/or
c) they need to have their critical data up-to-date, synchronized across all their devices, and safely stored and accessible at any time and from anywhere
d) mobile operators are looking to minimize visits of customers in their brand shops because of COVID-19 will change mobile phone selling patterns
Why get personal?
The growing interest in cloud services can help move focus and value from device vendors back to the cloud providers. People tend to save their mobile lives to the cloud. That created opportunity for mobile carriers to offer it as part of their services or even some of them already offers it. Personal cloud services have changed the way digital technology is used. We offer a versatile implementation of White Label Personal Cloud Solution for operators to offer it under their own brand.
Innovative & Unique Service by Syncfony
Innovative cloud service, available to everyone
Brings together benefits of personal cloud and # 1 backup service
Bulletproof service with many advanced features
Next level of digital business
Supports Android+iOS, Windows+MAC (other platforms on request)
Potential for Increasing ARPU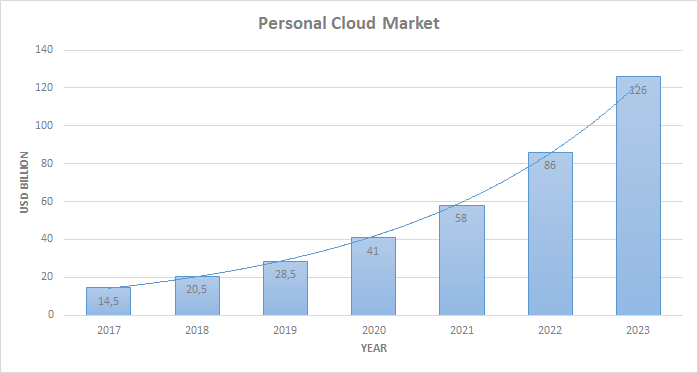 Based on independent analysts, Personal Cloud can increase ARPU (Average Revenue per User) up to $1.33 per user per month on direct revenue uplift and another $0.50 per user per month on data package up-selling. And there is another, secondary increase by native photo resolution growth and phone memory growth when customers changing their devices.
The whole market is expected to grow. The global Personal Cloud Market was valued at USD 14.51 billion in 2017 and is expected to reach USD 125.92 billion by the end of 2023 with a CAGR of 44.3%. Source: https://www.reuters.com/brandfeatures/venture-capital/article?id=72896
Personal Cloud comes with several advantages for the operator
• Data Security – Added Value for Customers – offer additional security to your clients (including ransomware protection)
• Small Smart Services – possibility to generate new revenue from photos/videos storage
• Differentiation from Competitors – provide a unique benefit to attract new clients
• Data Stored in Your Geographic Area – Syncfony.com can satisfy the demand for geographical (local) backup
• Loyalty Support – retain your current clients by providing Syncfony.com platform
• Lowering Price Erosion – list synchronization and backup as a benefit to price negotiation
---
Business model
We prepared two different business models for mobile carriers:
Freemium model is offered for Retail segment (cost based basic service + revenue share model for cloud storage) under which Syncfony can be offered as part of data plans (loyalty support, differentiation)
For the B2B segment, mostly focused on SMEs we offer a direct revenue share model where added service can cover SMEs' need to backup phone/device data. It is an easy service that does not require IT knowledge on SMEs' side and it can or even offer contact management across employee phones.
Eligible or Active users
Both business models above can be calculated in two different ways which are eligible or active users
Eligible user – Customer has "rights" to use PhoneCopy.com as part of his data plan. The price is very low with a minimum commitment of 100 000 users. Media storage for images, videos or documents can be calculated separately
Active user – Only customers who use PhoneCopy.com are counted. The price per month is higher but minimum commitment start at  20 000 users. There should be the predefined amount of Media storage as the part of the service (1, 2, 5GB . . .). Customers can upgrade to higher storage in revenue share model (increased number of images/videos, growing memory on devices, larger image files, etc.).